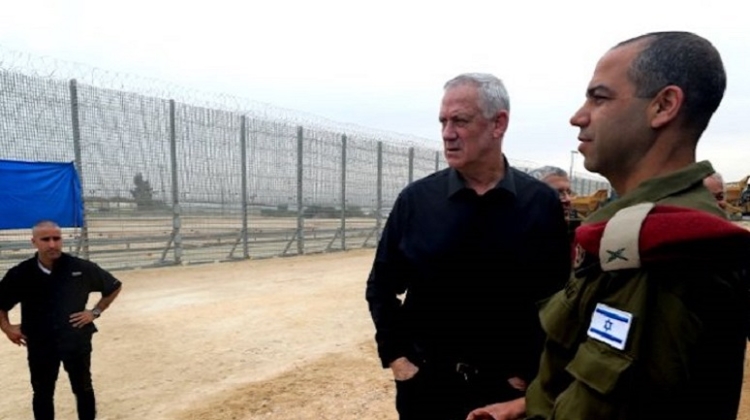 The far-left British newspaper The Guardian recently carried a tugging-at-your-heartstrings story about a woman in Gaza whose breast cancer recently reappeared after years of remission.
A report on her condition, and whom The Guardian thinks deserves blame, is here: "Dear Guardian, Who Is Really Responsible For a Gaza Woman's Untreated Breast Cancer?," by Rachel O'Donoghue, Guardian, November 8, 2022:
Ghada Hammad is a Palestinian mother living in the Gaza Strip, who is currently battling a recurrence of stage 2 breast cancer.

In a first-person account of her tragic story — as told to the Guardian's Jerusalem correspondent Bethan McKernan — Hammad describes how her diagnosis came shortly after she had five babies following IVF treatment and when she was still breastfeeding her young children.

She explains that surgeons at a hospital in Gaza performed a single mastectomy, in addition to chemotherapy and hormonal therapy until 2015 — after which she was referred for radiotherapy, which was unavailable at any medical facilities in Gaza:

You have to get permission from the Israelis to travel to Jerusalem or the West Bank for treatment, or from the Egyptians to go to Cairo.
Israel understandably has to worry about anyone they allow to travel into Israel from Gaza. Patients seeking medical treatment not available in Gaza can also be couriers carrying messages from terrorists in Gaza to their fellows in Jerusalem or the West Bank; Israel wants to be able to vet these patients, beginning with their male relatives, their extended families, the perceived level of their piety, whatever might provide insight into their views about the Jewish state.
To get medical treatment outside Gaza, normally you have to get a referral appointment from the hospital in the West Bank, and then apply to the Palestinian body that coordinates travel permits for medical treatment with the Israelis. Budgets for medical coverage from the Palestinian Authority are really tight; there are more patients for complicated surgeries and cancer treatment. Usually, only people in a critical condition get permits quickly.

While Hammad acknowledges that she could have received a travel permit from Egypt, she details how the journey into Egypt is longer and how patients potentially face the need to have their tests redone in the country before they can receive treatment. In any event, she says that she and her husband would have been unable to afford this additional expenditure.

She then explains, in great depth, the alleged problems thrown up by the Israeli security services in issuing her a visa to travel through Israel to receive care at the Augusta Victoria hospital in eastern Jerusalem, including a security interview at the Erez Crossing, in which she was reportedly quizzed about her male family members.

She claims that Israeli authorities later erroneously insisted they had not received any travel applications from her in 2015.

Hammad then fast-forwards to May of this year, when she was told her cancer had returned, and she was scheduled for an appointment in Jerusalem earlier this month, although it is unclear whether she attended it.

While Hammad's tale of poor health while caring for a young family is gut-wrenchingly tragic, there are several points that the Guardian should have included, which would have ensured readers were not being misled about who is responsible for the failures in her healthcare.

First, far from routinely denying Palestinians in the Gaza Strip access to medical care, Israel's Ministry of Defense's Land Crossings Authority and the Unit for Coordination of Government Activities in the Territories (COGAT) make every effort to facilitate medical care for Palestinians from the Gaza Strip.
The Guardian article makes it appear as if Israel makes it very difficult – practically impossible – for Palestinians to enter the Jewish state. But 200,000 Palestinians enter Israel every day, from both Gaza and the PA-run territories, to work. And many come, too, for the superior medical care they receive in Israeli hospitals. In fact, leaders of both Hamas and the P.A. have insisted on being treated, and having their relatives treated as well, in Israeli hospitals. Saeb Erekat spent his life denouncing Israel, but when he came down with COVID-19, he insisted on being treated at Hadassah Hospital. Mahmoud Abbas had an Israeli specialist treat him at home in Ramallah in 2018, leading to a remarkable recovery. He also arranged for his wife and his younger brother to be treated in Israeli hospitals. And when Abbas' brother-in-law needed a heart operation, he, too, was treated in an Israeli hospital. Muslim clerics, too, rely on Jewish doctors. The Jerusalem-based radical cleric Sheikh Ikrima Sabri has spewed vicious anti-Israeli incitement from his pulpit for years. But when he urgently needed heart surgery, his first choice was the Zionist-run Hadassah Hospital in Jerusalem. The Jewish doctors saved Sabri's life, and without missing a beat, he returned to defaming Israel and inciting violence and terrorism against Jews.
It is interesting that there are so many Muslim terrorists who trained as doctors. The late Ayman Zawahiri, a medical doctor, was one of the original founders of Al-Qaeda; Abdel Aziz al-Rantisi was a senior Hamas figure and a physician; Mahmoud al-Zahar, the co-founder of Hamas, trained as a surgeon, and Ibrahim al-Yazouri, also a co-founder of the terror group, was a pharmacist. But instead of fostering a modern Palestinian public health system, building new hospitals, and improving the quality of medicine in the Gaza Strip, Hamas and the Palestinian Islamic Jihad leaders invested the international community's '"humanitarian assistance" money in positioning missile arrays inside United Nations schools and infirmaries, building a network of underground command and attack tunnels throughout the Gaza Strip, and fortifying the bunkers they constructed under Shifaa Hospital in Gaza City.
The poor quality of medical care in Gaza (and the somewhat better care in the PA-ruled territories of the West Bank) reflects a conscious choice by the Hamas leaders. They chose to invest money that they received from foreign donors not on improving their hospitals, training and hiring competent doctors and nurses, and buying needed medical equipment, but instead have spent huge sums on tens of thousands of missiles and rockets, placed inside schools, mosques, infirmaries, and office buildings, and have created a vast underground network of attack tunnels and fortified bunkers. It was their choice to invest so much of that aid in supporting terror rather than on medical care for the impoverished people of Gaza.
In the West Bank, the corrupt leaders who run the P.A. have also skimmed off large amounts of aid; President Mahmoud Abbas heads the list having amassed, with his two sons Tarek and Yasser, a $400 million business empire. The aid that ends up in the pockets of the P.A.'s upper echelon could have gone to improving hospitals, training doctors, and buying medical equipment for the Palestinians in the West Bank.
Now about that Guardian article which insists on how hard it was for Ghada Hammad to receive permission to travel to the West Bank for medical care lacking in Gaza — It's greatly exaggerated.
In 2021, there were 13.5 million individual crossings [into Israel] by Palestinians for work, commerce, and medical treatment, which represented a 23 percent increase from the previous year. This rise in crossings coincided with a sharp increase in disruptions at the crossings, with Israeli forces intercepting firearms, knives and other weaponry. It is these security issues that make travel permits and stringent checks at the crossings a necessity.

Incidentally, the uptick in crossings miraculously happened in spite of Israel facing off against another security threat emanating from the coastal enclave — the Hamas-initiated war in May.

Second, the role of the Palestinian Authority (PA) in dis-enabling medical care for Gazans in the West Bank is totally glossed over in the Guardian piece, including how in 2020 the PA's President Mahmoud Abbas had no qualms about canceling agreements signed with Israel and the United States. The knock-on effect of this was that the Authority ended its coordination with Israel regarding permit requests for patients in Gaza.

Last — and most critically — Guardian readers should have been told why radiotherapy is not available in the Gaza Strip in the first place — and why people in Hammad's situation are forced to travel great distances to receive life-saving care….
It is the US-designated terrorist organization Hamas that governs the Gaza Strip, and is responsible for maintaining medical facilities and other public services in the territory. Radiotherapy is not available in Gaza because Hamas chooses to spend so much of its aid money on rockets, missiles, and terrorist tunnel networks.
Ghada Hammad's story is not about Israel at all, though The Guardian attempts to make it so. It is about the failure of Hamas to provide for the impoverished Palestinians it rules over. Just two Hamas leaders, Khaled Meshaal and Moussa ibn Marzouk, have each squirreled away $2.5 billion, taken from aid money. And much of the remaining aid money has been spent on vast amounts of weaponry and terror tunnels. The Guardian missed an occasion to educate its readers about how Hamas has ruined the lives of so many people in Gaza, beginning with Ghada Hammad, who may not get the radiotherapy she needs. Perhaps the next time the paper carries such a story, it will surprise us by putting aside its animus toward Israel, and lay the blame for poor medical treatment in Gaza where it squarely belongs: on Hamas.