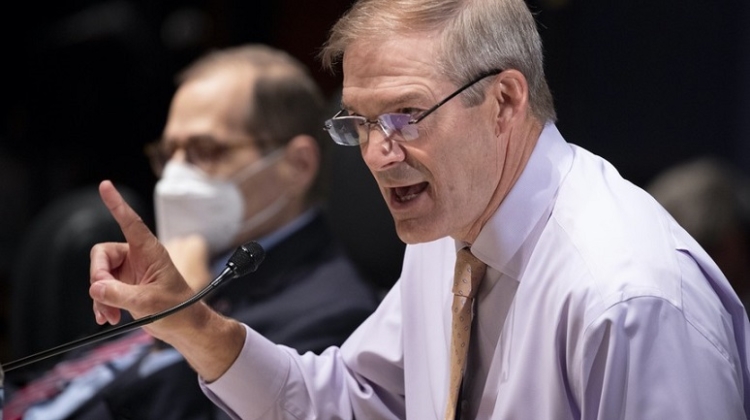 Well, will she sing? On Monday, the House Judiciary Committee subpoenaed Nina Jankowicz, the former head of the Biden regime's ill-fated Disinformation Governance Board, as part of its ongoing investigation into how the authoritarian Left has weaponized the various agencies of the federal government to criminalize dissenting speech and rule half of the electorate outside the bounds of acceptable discourse.
The question "will she sing" is not in this case an old-fashioned way to ask if Jankowicz will talk and spill the beans on this authoritarian regime; since Jankowicz has been known to break into song over the pleasures of silencing dissidents, it's a legitimate, literal question.
Jankowicz, unfortunately, is unlikely to give us another rousing musical tribute to censorship and authoritarianism, or even to appear at all. Judiciary Committee chairman Jim Jordan (R-Sanity) wrote to Jankowicz, admonishing her for her refusal to cooperate with the committee: "We have repeatedly sought information from you," Jordan wrote, "concerning your official actions and duties as a DHS employee and former Executive Director of the Board, including how the Board intended to define disinformation, how it planned to collect information and from what sources, how it anticipated countering disinformation, and how it proposed to protect First Amendment rights. To date, however, you have declined to comply voluntarily with our request for a transcribed interview."
This is odd behavior from the former speech honcho, as she seems anxious to clear her name and refute all the nasty and allegedly false allegations that patriots have made about her sinister board.
Jankowicz has, after all, launched a crowdfunding effort to finance a lawsuit against Fox News "for their malicious, reckless lies against me." Among these alleged lies, Jankowicz asserts, is the claim that "the board was an Orwellian 'Ministry of Truth,'" when actually, Jankowicz insists, it "had nothing to do with arbitrating or restricting speech." That coincides with the claims of DHS Secretary Alejandro Mayorkas, who maintained that the board would "not infringe on free speech… civil rights [or] civil liberties" because it would have been focused upon "disinformation" efforts arising outside the country, not domestically.
Belying that claim, however, is the fact that whistleblower documents released last year show that Mayorkas and Jankowicz lied to the American people about the board's purpose and scope. Despite repeated denials, it was designed from the beginning to monitor and restrict the free speech of American citizens. On May 1, 2022, CNN's Dana Bash asked Mayorkas, "Will American citizens be monitored?"
Mayorkas' answer was as unequivocal as it was reassuring: "No. The board does not have any operational authority or capability. What it will do is gather together best practices in addressing the threat of disinformation from foreign state adversaries from the cartels and disseminate those best practices to the operators that have been executing in addressing this threat for years." Okay, great.
Yet just weeks after this, Jankowicz tweeted that "the spread and effects of disinformation on American society have only worsened and become entrenched in domestic politics" and added: "This is the type of work I had hoped to do at DHS, and the type of work the USG sorely needs to invest in. This is the type of work that I have built my career on—not a few contextless tweets. And this is the type of work I will continue in the public sphere." When she was reminded of the denials that the Board would get involved in domestic politics, Jankowicz insisted that all she was talking about was "raising awareness of the falsities coming out of the Kremlin" and there was "no 'combating' domestic sources anywhere in the mix."
However, according to the office of Sen. Josh Hawley (R-Mo.), "the whistleblower documents show that The Disinformation Governance Board was originally conceived in part to monitor domestic speech regarding 'conspiracy theories about the validity and security of elections' and 'disinformation related to the origins and effects of COVID-19 vaccines or the efficacy of masks.'" Even worse, "DHS planned for a partnership with Twitter to suppress disfavored content and planned a meeting with Twitter executives exploring the concept." And we have seen in the Twitter Files how far that initiative got.
The ferociously partisan, biased Jankowicz has also, according to the Daily Caller, "claimed that opponents of Critical Race Theory are engaging in 'disinformation for profit,' and that Hunter Biden's laptop was a Republican 'campaign product.'" We all know how that piece of "disinformation" turned out. If Jankowicz really wants to prevail in her lawsuit against Fox and prove to the nation and the world that she wasn't set to become the Biden regime's chief censor, she should testify fully and honestly to Jordan's committee about what the Disinformation Governance Board was supposed to be all about, and why. But that almost certainly won't happen.
Photo: Michaels Reynolds/Pool via AP