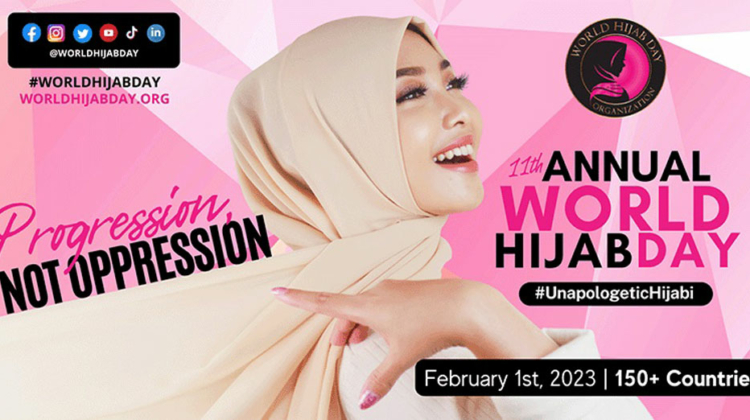 February 1st is the Eleventh World Hijab Day (WHD). Hijab is the general term for various Islamic veils. In the West hijab primarily refers to a head scarf. Other types of Hijab include the niqab that covers the entire face except for the eyes and the Afghan-style burqa that covers the entire face and body, with just a mesh screen to see through. World Hijab Day was founded by New York activist Nazma Khanin in 2013 and is now celebrated in 150 countries. The stated goal is to foster religious tolerance and understanding by encouraging women of all religions to wear and experience hijab for one day. In 2018, the World Hijab Day Organization became a 501(c)(3) non-profit organization and they have been cashing in on woke women's white guilt ever since.
While World Hijab Day is being promoted and celebrated around the world Iranian women are being beaten, tortured, raped, and killed for protesting against the government of Iran for the freedom not to wear hijab. Widespread demonstrations began after the September 16, 2022, death of 22-year-old Mahsa Amini in police custody. Amini was detained by Iran's religious morality police for violating Iran's mandatory hijab law. Her crime is that some of her hair was showing. As of January 2023, at least 488 people, including 64 children and 34 women have been killed as a result of the government's crackdown on the protests. Over 18,200 have been arrested, at least 100 are facing execution, 12 have been sentenced to death in closed-door hearings and 2 have been executed. In the method of Islamic Revolution executions, they were publicly hanged from construction cranes to deter protests and scare women into compliance.
Instead of supporting their Muslim sisters in Iran, the World Hijab Day Organization decided to exploit the Iranian demonstrations by employing a deliberately ambiguous fundraising campaign. When soliciting donations they write, "Help stop persecution against girls and women in hijab worldwide!" Their advertising makes it appear as if they are raising money for women who are being persecuted because they do not want to wear Hijab. When in actuality they are raising money to persuade women to wear hijab, undermining Iranian women who are fighting for their freedom and worse profiting from their suffering.
Fundraising messaging aimed at Western women is calculated to perpetuate myths of Muslim victimhood that evoke guilt for white privilege. WHD's mission statement is "Through awareness, education and empowerment, we are committed to dismantling bigotry, discrimination and prejudice against Muslim women." Encouraging women to wear and experience hijab for a day is a brilliant strategy that appeals to woke women who live for virtue signaling, especially if it involves designer headwear (remember the Women's March pink pussy hats).
However, protests in Iran have created an unusual quandary for World Hijab Day. Prominent Hollywood celebrities and sports stars started speaking out on social media in solidarity with Iranian women after the death of Amini. Oscar-winning actresses, French screen and music stars and women around the world started cutting their hair in response to Amini's death, posting the resulting videos to social media platforms. Other protesters started burning their hijabs at gatherings that erupted within Iran and elsewhere. This poses quite a dilemma for woke women who have to decide to wear or not wear hijab for a day.  Do they post on #AntiHijabProtests in support of Iranian women or do they post on #UnapologeticHijabi to support World Hijab Day. Do they wear the new haute culture hijab, or do they burn it? Do they post a video cutting their hair or covering their hair? Their virtue signals are getting crossed. Woke programming did not prepare them for critical thinking.
Similar to other forms of creeping sharia World Hijab Day has now morphed into Hijab Month where women of all faiths are invited to wear the head covering for 30 days every year during the month of Ramadan as a gesture of solidarity to their Hijabi sisters worldwide. The event is advertised as a 30-Day Ramadan Hijab Challenge under the hashtag #Hijab30. If WHD really wants to host a hijab challenge women should try not wearing the head covering in Iran or Afghanistan for 30 days. They can advertise it as a 30 Day No Hijab Survival Challenge #NoHijab30SurvialChallenge. Any woman who has not been mutilated, raped, disfigured or killed at the end of the month wins a designer head scarf from Haute Hijab.
A more insidious objective of World Hijab Day is purposefully gaslighting Muslim women who question their oppression. WHD asserts that Hijab is a symbol of empowerment and modesty. Their website hosts a weekly webinar called "Modesty Table". Their current motto is "Progression Not Oppression" and appears in WHD graphics with images of beautiful smiling women wearing designer Hijab. There are no images of the hundreds of women and schoolgirls who were blinded, burned and disfigured after hydrochloric acid was thrown on their unveiled faces by men who considered them improperly dressed for not wearing hijab. At the Iranian protests, instead of using acid the Basij paramilitary forces are shooting women in their faces, breasts and genitals at point-blank range. Protesters injuries include dozens of shotgun pellets, which are sometimes metal and sometimes plastic, lodged deep in their bodies. They are also being shot directly into both eyes leaving serious permanent visual damage or blindness. Shooting or throwing acid on their face, the only body part permitted to be viewed in public, is intended to socially shame the women and send a message that they are of disrepute, bad character and outcasts who engaged in prohibited conduct. It is literally a loss of face.
In response to WHD, a growing number of Muslim women worldwide started observing 'No Hijab Day' also celebrated on February 1st each year. Activists started campaigning against WHD using hashtags #NoHijabDay, #FreeFromHijab, #no2hijab and more. Iranian-American women's rights activist, Masih Alinejad has been fighting against compulsory hijab in Iran for years. Last year she posted, "We don't want hijab day, we want #NoHijabDay. Hijab is a weapon used to arrest women and throw them in jail. To punish them for no reason. Walking unveiled in Iran, women can get arrested, lashed and imprisoned. #LetUsTalk #FreeFromHijab." The campaign against WHD was met with a highly organized social media backlash pitting women against each other, using a classic divide and conquer strategy to further advance the Islamist agenda.
Feminist academics, who love to invent new phrases to describe their never-ending list of grievances, use the term 'Hijabophobia', to refer to discrimination against Muslim women who wear the hijab. They define it as a gender specific type of Islamophobia in which Muslim women are stigmatized for wearing a hyper visible Islamic symbol, making them easy targets for anti-Muslim attacks. The term hijabophobia functions in the same manner as Islamophobia, as a strategy to silence any criticism of Islamism and perpetuate the myth that Muslims are disproportionately targeted by perpetrators of hate crimes and acts of discrimination. WHD's Instagram page reads "Dismantling hijabophobia through awareness and education". When 22-year-old Mahsa Amini was arrested and taken to the Vozara Street Detention Center in Tehran, she was reeducated about the importance of hijab. Her education involved being beaten into a fatal coma for not wearing her hijab properly. She was dismantled through awareness and education.
According to the rantings of postcolonial feminist scholars the hijab needs to be 'decolonized' because it intersects with colonial representations of Muslim women as backward, oppressed victims of misogynistic societies. Typically, decolonizing is characterized by the destruction and removal of historical statues and monuments, renaming schools, athletic teams, buildings and parks and eradicating things, images, or words, perceived to be embodiments and symbols of colonial oppression, slavery and domination. These feminists fail to see the contradiction of attempting to demolish every symbol of colonialism, gender inequality and sexual exploitation except the most visible symbol of patriarchal oppression, the hijab. These postcolonial feminists are suffering from an 'irony deficiency' – weirdly, a fitting quote from the Handmaid's Tale.
Western feminists argue that women who choose to cover are demonstrating assertiveness and agency, of being in control of their bodies. Their academic hegemonic gendering discourse, what unpretentious scholars simply refer to as research, is deeply insidious because it persuades Muslim women to internalize their own oppression and become willing victims. These feminists neglect to address how clothing, whether low cut tops, miniskirts, hijabs or burqas, are used as a shaming mechanism to make women think they are responsible for uncontrollable male sexual urges. To veil or not to veil is actually two sides of the same patriarchal coin, that when flipped always results in 'you asked for it'. WHD wants to market the hijab as choosing modesty, but they are just reinforcing the Islamist view that women are a dirty impure unclean gender who must be hidden, cloistered, secluded and segregated so they do not entice or contaminate the community of men.
The real agenda of World Hijab Day is encouraging women to shame other women into male subjugation. Woke women wear hijab for a day to atone for their white privilege, feminist academics invented hijabophobia to earn anticolonial street cred and WHD organizers gaslight their Muslim sisters to further the Islamist agenda. World Hijab Day does not foster religious tolerance and understanding, it fosters an army of Feminist Kapos, Muslim Queen Bees selling out other women so they can have status in an Islamist patriarchal culture.