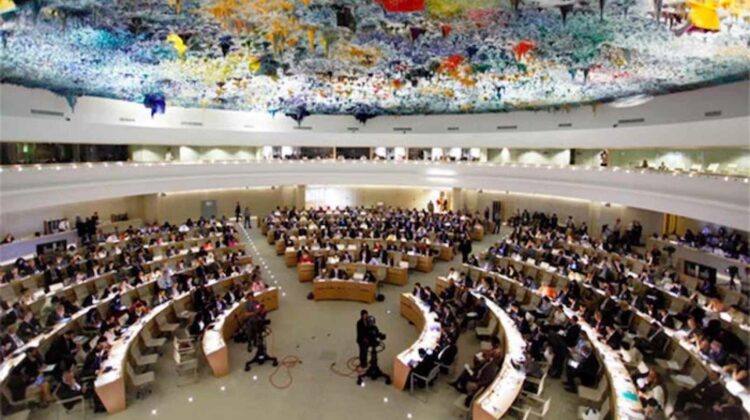 At the end of 2021, the UN Human Rights Council set up a Commission of Inquiry that would investigate "human rights violations" and "war crimes" committed in Israel, Gaza, and the West Bank by the Israelis, but by no one else. The General Assembly approved a budget of $5 million to fund the Commission in its first year; the COI is to run in perpetuity. It's an open-ended probe.
A report on this latest anti-Israel development at the UN is here: "Let's resolve to abolish the UN Human Rights Council," by Melanie Phillips, Israel Hayom, December 31, 2021:
At the turn of a new year, people traditionally make resolutions to improve themselves. So, what is the United Nations setting itself to do better in 2022?

Answer: Launching an onslaught against Israel even more malicious and far-reaching than the UN's previous attempts to delegitimize and destroy it.

In the past week [on December 23], the UN General Assembly approved an annual $5 million budget for a commission of inquiry, led by the former UN High Commissioner for Human Rights Navi Pillay, which has unprecedented scope to demonize Israel.
Navi Pillay has a well-deserved reputation for being hostile to Israel. She was an eager participant in, and contributor to, the 2001 Durban Conference on Racism, which at once degenerated into an antisemitic hatefest. She accused Israel of "war crimes" in 2014, including her claim that Israel was engaged in the "apparent targeting of…children playing" on July 23, 2014, a charge that had previously been denied by IDF spokesmen and characterized by Anne Bayefsky as "incitement to hate." After reviewing the US financial support for Israel's Iron Dome program, she called for the world to provide a similar defensive weapon to the Palestinians in Gaza. Her indignation that "no such protection has been provided to Gazans against the shelling" has been described by one critic in Tablet magazine as a "hilariously delicious absurdity." On July 25, 2014, the United States Congress published a letter addressed to Pillay by over 100 members in which the signatories asserted that the Human Rights Council "cannot be taken seriously as a human rights organisation" over their handling of the 2014 Israel–Gaza conflict. Navi Pillay will do all she can, as head of the Commission of Inquiry, to produce reports to blacken the image of the Jewish state, accusing it of "war crimes" in the May war in Gaza, and of endless "violations of the human rights" of Palestinians in Gaza, the West Bank, and Israel proper. That is the person who has been chosen to head the COI investigating Israel for "war crimes."
The COI will not be investigating the practice by Hamas of storing weapons, rocket launchers, and command-and-control centers, in or next to civilian buildings, including schools, hospitals, apartment buildings, and mosques. Nor will it be investigating the 4,500 rockets that Hamas fired at civilians in Israel, beginning with a barrage on May 10 that began the 11-day war.
The ostensible context for this inquiry, which was launched in a resolution passed by the UN Human Rights Council (UNHRC) in May, was the conflict that month when, under attack from thousands of rockets fired by Hamas from Gaza to kill Israeli civilians, Israel launched Operation Guardian of the Walls to defend itself.

Of the 236 Gazans who were killed during that conflict, at least 114 were members of terrorist organizations and 21 were killed by fellow Gazans as a result of rocket misfire.
In fact, the IDF believes that almost 200 of the Gazans who were killed in May were Hamas fighters, with 25 of them being senior commanders of the terror group. This only makes the point even stronger: the IDF made great efforts to minimize civilian casualties. In order to hit back at Hamas, it perforce would be hitting civilian structures where weapons and launching pads and fighters were hidden. The IDF warned civilians in advance to leave buildings about to be targeted. It warned by telephoning, emailing, leafletting, and using the "knock-on-the-roof" technique, which is why there were so few civilian deaths in Gaza. But none of that will impress Navi Pillay or her fellow COI grand inquisitors.
The inquiry, however, has been set up as a kangaroo court. It's not just that the UNHRC resolution failed to mention the rocket onslaught against Israeli civilians by Hamas, or its use of Gazan civilians as human shields.

The inquiry has clearly been set up to find Israel guilty of the human rights crimes of which it is both innocent and the victim – and furthermore, to declare it guilty of such crimes not just in Gaza and the "West Bank" but within Israel itself.
The COI is set up not to investigate "human rights violations" and "war crimes" by all parties to conflicts in Israel, the West Bank, and Gaza, but only those that can be blamed on the Jewish state. Hamas, PIJ, and the PFLP will all remain unaffected by any investigation; no matter what they do, they will 'scape whipping; they are simply not part of the COI's remit.
Moreover, that remit includes "all underlying root causes of recurrent tensions, instability and protraction of conflict, including systematic discrimination and repression based on national, ethnic, racial or religious identity."
What might those "underlying root causes" be? Certainly those "root causes" will include, for the Commission of Inquiry, the entire "colonial-settler" enterprise that has been going on, we are told, since the earliest years of Zionism, the "theft of Palestinian land," Israel's refusal to allow 5 million Palestinian "refugees" to exercise their "right of return," and the "systematic discrimination and repression" that the apartheid state of Israel practices. Why, the COI report practically writes itself.
Those "root causes" will not include the texts and teachings of Islam, which insist that any land once possessed by Muslims must forever remain part of Dar al-Islam, that instructs Believers that non-Muslims are "the most vile of created beings," while Muslims are the "best of peoples." There will be no discussion in the COI reports of the many Qur'anic verses that instruct Muslims to "kill" and to "fight" and to "smite at the necks of" and to "strike terror in the hearts of" non-Muslims. Islam will remain the elephant in the room.
So, it's [the UNHCR's Commission of Inquiry] poised to accuse Israel of the purported crime of its very existence going back to its creation in 1948, as well as to libel it with the false charge of "apartheid" which has become the defining smear of Israel-bashing circles.
Since the preferred epithet for Israel these days is "apartheid" – Israel is charged by all of its many enemies with being an "apartheid" state – let's go through the conclusive evidence to the contrary one more time. In Israel, Arabs are members of the Knesset and of the Cabinet. Arabs serve as judges on the Supreme Court. Arabs are sent abroad as ambassadors representing Israel. The chairman of the largest bank in Israel, Bank Leumi, is an Arab. Jews and Arabs study in the same universities, work in the same offices and factories, are treated in the same hospitals by both Jewish and Arab medical personnel. Jews and Arabs play on the same sports teams and in the same orchestras. Jews and Arabs own small businesses, like restaurants, together. The government of Israel has allocated large sums from the government to prepare Israeli Arabs for jobs in high tech, so that they join Israeli Jews in such enterprises. None of this would have been possible for whites and blacks in the real apartheid state of South Africa.
Worse still, its scope [the Commission of Inquiry] and reach are astonishing and unprecedented. As Anne Bayefsky points out in a devastating article for the Jerusalem Center for Public Affairs, the commission will have 24 permanent staff members. This compares to 20 permanent staffers for the council's branch covering all of Asia, Pacific and the Middle East, or more than 60% of the world's population.
Think about that: the Commission of Inquiry just set up by the UNHRC will have a larger permanent staff of 24 to investigate the putative misdeeds of the tiny Jewish state, larger than the number of staffers – 20 – that the UNHRC now assigns to cover all of Asia, Pacific, and the Middle East. More staffers will be investigating Israel's 0.1% of the world's population than will be investigating 60% of that same population. And this COI, with Navi Pillay at its head, and with its two dozen staffers reporting quarterly on Israel's "human rights violations" and "potential war crimes," has been quite unnecessarily created, with most of its remit overlapping with the UNHRC's Agenda Item #7, which requires the UNHRC to discuss at every one of its meetings the "human rights situation in Palestine and other occupied Arab territories."
And its aim [of the COI] is to single out Israelis for criminal charges.

To that end, it will have four full-time lawyers, plus a "forensic expert" to "report on medico-legal issues," and a "military adviser" to pronounce on "de jure command responsibility" and liaise with law enforcement officials.

This is designed to cripple Israel's capacity to defend itself against murderous and existential attack. "In effect, the budget of this UN inquisition funds the creation of a law firm inside the UN dedicated to manufacturing charges and mounting a global chase to arrest and incarcerate Israeli Jews," Bayefsky writes.
The COI will be, in essence, a law firm consisting not of defense lawyers but only of criminal prosecutors, with Israel always in the dock. The Commission of Inquiry will include a "forensic expert" to report on "medico-legal issues." What might these be? Charges that Israel uses chemical warfare? Or withholds medicines, or refuses to treat, wounded Palestinians? Your guess is as good as mine as to what the vivid oriental imaginations of the Palestinians will come up with and complain to the COI about. As for a "military adviser" to pronounce on "de jure command responsibilities" this must mean deciding how high up, and how far down, along the chain of command in the IDF should officers and soldiers be held responsible for putative "war crimes." It's a little bit of Nuremberg, just waiting to happen, with IDF officers and men to be chased down, and ultimately to be made subject to the jurisdiction of the heavily-politicized World Court.