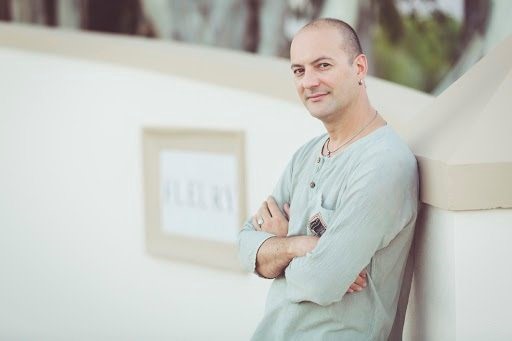 "It's been a rough month," says Jess.
Coming from a one-man mountain with more shrapnel scars than most, things must be looking bleak in South Africa.
And it's worse than any of us can imagine. Eighty-four farm attacks since lockdown began, twelve white farmers slaughtered from their land. The footage of the aftermath of one of the attacks circulating on Telegram and sent to me — too brutal to share. Only monsters could do such things to the elderly in their own homes.
As many of us celebrated the 4th of July this weekend, there were three murders in two days, one of them so unspeakably cruel that even those hardened to the news of torture of farmers by black gangs have found themselves white-knuckled at the speed of the horror.
When these massive men like Jess feel it, we need to stop and listen. They are the first people I would run to if I needed protecting: strong, sturdy, unflinching. These strong South Africans are part of the land, they have it coursing throughout their blood just as the sunshine and water spills through the crops and trees on their soil.
Hearing the horrible news I want to grab my little daysack — sitting ready with my passport and power plugs — pull on my boots and go. I am desperate to head back to their country, somehow leap into the struggle and to help the murdered be heard. For now I share their pictures with you, hopelessly trying to reanimate them as individuals, instead of more bodies on a pile.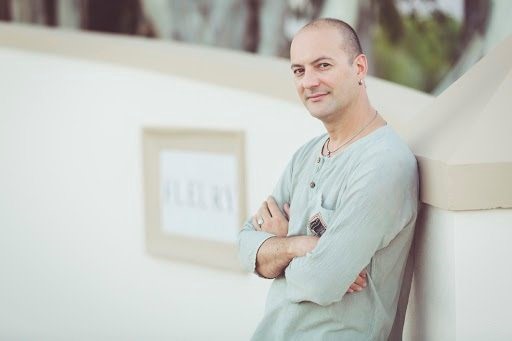 This is Wynand Breedt. He was a well-loved Afrikaans singer.
He was ambushed and shot dead outside his farm on Friday. Nothing was stolen; there was no motive for the attack apart from the color of his skin. He was 46.
This smiling gentleman is Julian Stobbs. He was a Brit, a Royal Navy man and veteran of the Falklands War. A black gang raided at his home as he slept alongside his partner on Friday 3 July. They stole everything in the house and fled, only to return briefly to shoot and kill him. Julian was 59.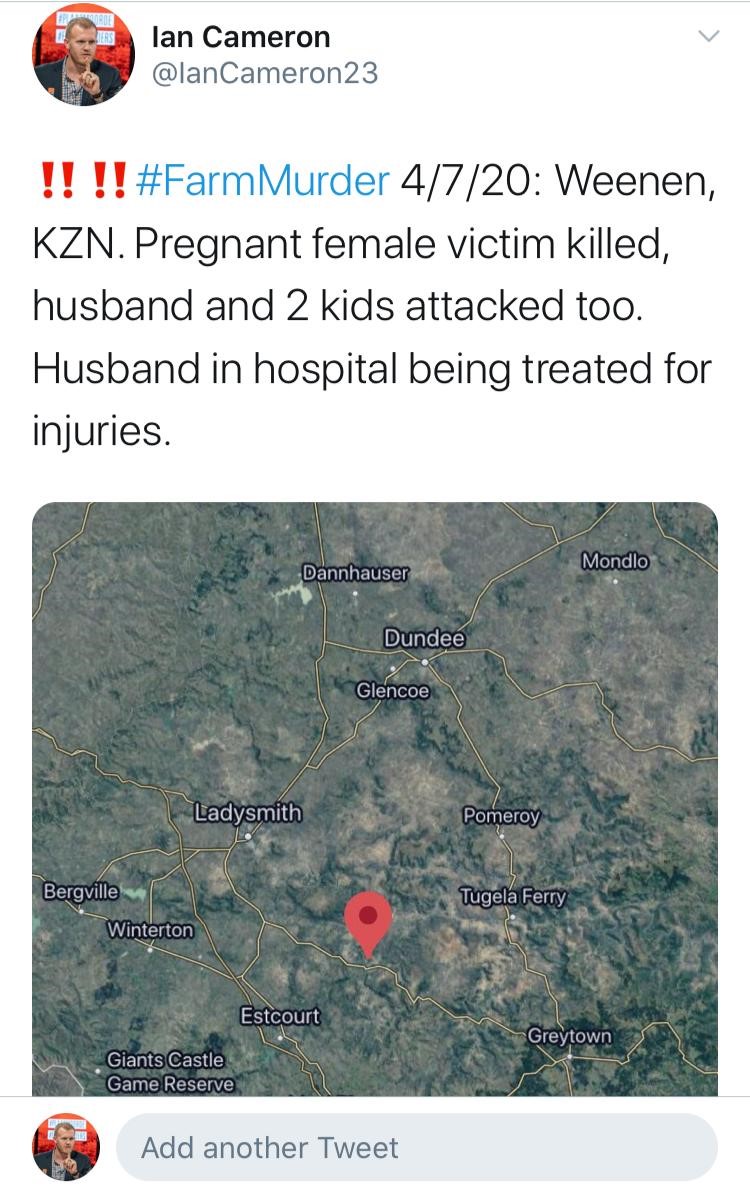 In Kwa-Zuklu Natal, Zakiyya Ahmedjan Ismail was brutally killed in her home. She was four months pregnant and a mother of two. Three armed men gained entry through the kitchen door and demanded cash. The father tried to protect his family, but was beaten off. They were strangling his daughter, aged 8 and kicked the 4-year-old.
The attackers dragged the pregnant mother into the bathroom and slit her throat. She was 26 years old.
The hatred of "others" in South Africa means Indian families are a target too.
Ian Cameron (author of this tweet) heads up Afriforum's Community Safety team, endlessly on the road in his vehicle calmly providing his physical presence at flareups between those seeking violence and white farmers defending their land. We spent time together when I was in South Africa making my documentary Plaasmoorde, the Killing Fields.
He is another one of the big strong men who have been ankle deep in the blood and gore of this slaughter for years, but can still smell a change in the air — a sense that things are speeding up, and deteriorating faster than before. Ian sent me his tweet hoping I could help share the information, near desperation borne out of the real sense that no one is listening, no one is seeing what is happening to white South Africans, now down to 4% and close to extinction. In country, it is almost unbelievable that no one seems to care.
Even docile opposition parties have been forced into public statements on the slaughter. Chris Pappas, a Democratic Alliance spokesperson for agriculture in KZN, could not ignore the brutality of the murder of the pregnant mum on his patch and says he is pleading with Cyril Ramaphosa to "break his silence" on farm murders and have them reclassified as "hate crimes."
"We are shocked and appalled by the murder that took place in Weenen, KZN – especially due to the loss of an unborn child. There are now two fundamental issues South Africans must deal with: Why does the president stay silent on these incidents? And why are farm murders not classed as hate crimes?"
Of course, these are empty words.
Politicians already know the answer to the President's silence. By making Land Expropriation without compensation part of the ANC agenda, Cyril Ramoposa has created a culture of permissiveness in which attacks on whites are legitimized. The brute squad — the Economic Freedom Fighters — are right there, like hyenas rasping at the ankles of the whites, hungry to claim a scalp. Their red-beret mob chanting "Kill the Boer, kill the whites" is a rallying cry for their supporters for whom the killing of whites is an approved and profitable sport.
Apartheid never went away. It just changed color.
The big question I see being asked by people like your good selves is, "Why do the white farmers stay? Why don't they just leave?" And it was my question too before I walked these farms, and sat with the farming men and women — looking out over their land.
The reason is staring you in the face. The answer IS the land.
Many watched their grandfathers turn it from rough bushveld into fertile acres where for the fortunate, bananas, macadamias and avocados will grow. Even on struggling farms, many white farmers work alongside the same families of black farm workers their grandfathers employed two generations before.
For most, the land is all they have. Many are incredibly poor; they have no savings or assets with which to start again. Everything they own or earn is in front of them, rooted in the soil they would leave behind, along with their hearts.
And where would they go? The sprawling slums crawling with vermin and flies are not reserved for struggling blacks; 30,000 whites live in these desperate places without water, electricity or hope.
Australia discussed giving them amnesty until the liberals declared the idea racist. The rest of the world rejects these murders as a far-right conspiracy or myth.
Without a means to leave, or a place to go, what would you have them do? Many are preparing for a final fight and talk about the "last stand" with determination. Most sleep with a loaded weapon under their pillow, stealing themselves for death if it should come. They won't die without a fight.
It is the reason religion is so strong here, why crosses can be still seen on buildings and hilltops, because when there is nothing left that makes sense, and apparently no power willing to defend white South Africans, God remains… God and the land.
I sat with a victim of a farm attack, Bernard, on his front porch looking out over the land he refuses to leave. He says:
"I will die in my boots from the love of my land. I put my trust in God."
You know, it is not defeat that makes them talk this way, but sheer resilience. They will be resilient to the end. Their only regret is the speed with which it now comes.
* * *