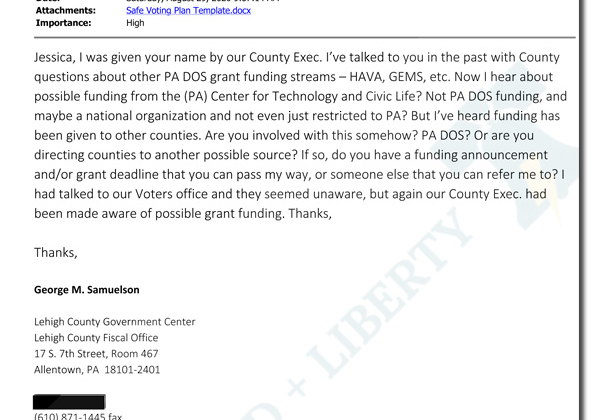 Reprinted From Broad and Liberty.
Last August, the Pennsylvania Department of State communicated directly with Democrat-leaning counties in the Southeast regarding multimillion dollar grants for the 2020 election. These communications happened as other counties in the state remained ignorant of, or were not not invited to participate in, the application process until the following month.
According to the Center for Tech and Civic Life (CTCL), the grants were intended to help smooth over increased costs counties were facing mainly because of the Covid-19 pandemic, such as the need for extra sanitation supplies, extra manpower, and new equipment to deal with the higher volume of mail-in ballots. And CTCL has insisted in a statement that they and their grant process are non-partisan.
Emails obtained via Right-to-Know (RTK) Law requests and an analysis of county grant applications show, however, that some counties that tend to skew 'blue' had a head start in obtaining funds.
Delaware, Chester and Montgomery Counties each discussed the existence of the grants with officials at the Pennsylvania Department of State in August. Most other counties, however, were only sent an invitation to apply for CTCL grants by the DOS a day after Facebook CEO Mark Zuckerberg and his wife Priscilla Chan announced a $250 million donation to CTCL on Sept. 1.
That invitation makes no allusions to any previous communications about the existence of the grants, signaling this was the first most counties had ever heard of the available money from the DOS.
In one of the emails obtained via RTK request, Christine Ruether, a member of the Delaware County Council, sent her completed application to DOS officials on Aug. 6, apparently for them to review.
An email from Lehigh County to the DOS on Aug. 29, on the other hand, shows that county was only just hearing rumors of the available funds.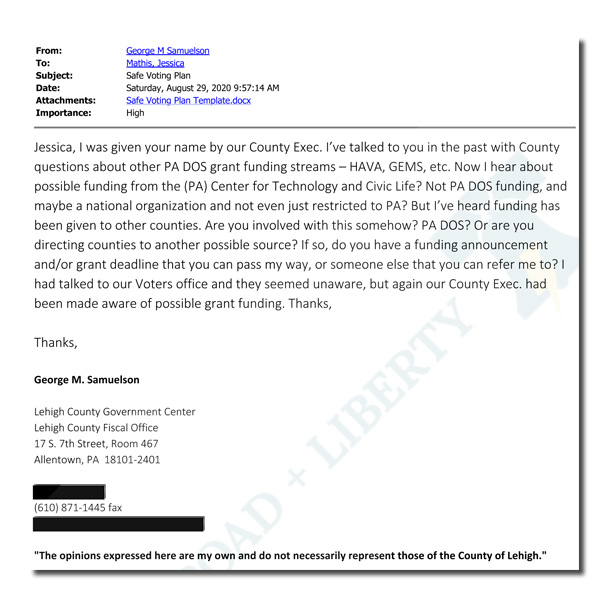 "But I've heard funding has been given to other counties. Are you involved with this somehow? PA DOS?," wrote Lehigh County grants coordinator George Samuelson to DOS Bureau of Elections Director Jessica Mathis.
The DOS did not respond to a request for comment, and thus did not answer how it came to learn of the CTCL grants, why some counties applied in August with DOS knowledge, and why they waited to make other counties aware only until after the Zuckerberg-Chan gift was announced on Sept. 1.
The RTK request from Broad + Liberty asked for emails from any employee within the DOS "with any county election office that discusses grants available or grants awarded by the Center for Tech and Civic Life." It, therefore, would have shown if other counties had been looped into the discussion in August.
Delaware County—which increased its margin of victory for the Democratic presidential candidate from 22 percent in 2016 to 26 percent in 2020—wrote its application for CTCL grant money on July 30 and was awarded $2.2 million on Aug. 18.
Delaware County councilwoman Christine Reuther said she first heard of the CTCL grants from "an acquaintance who was part of a non-partisan initiative to boost turnout in the 2020 election."
"I eventually received an email introduction to a consultant who was working with CTCL to help counties that needed assistance in funding the election efforts," Reuther continued. "That was in July of 2020. I was also advised that the DoS was working with CTC (sic)."
Reuther shared a copy of the county's grant application with at least three top officials in the DOS on August 7. It was then forwarded to then-DOS Secretary Kathy Boockvar and the DOS Executive Deputy Secretary Sari Stevens.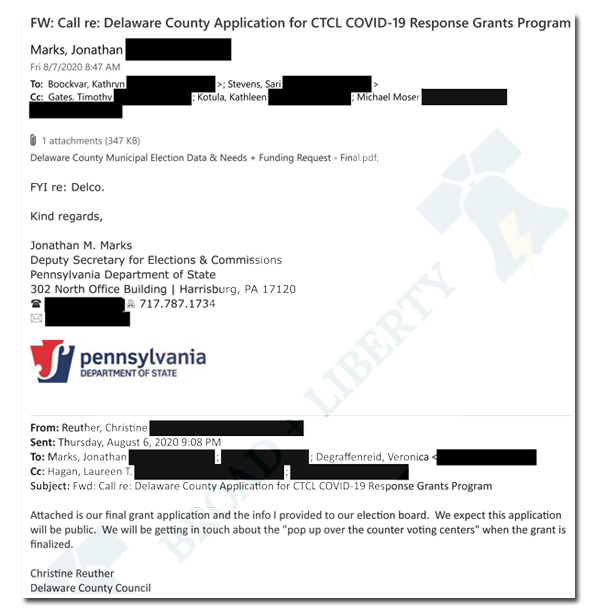 From there, it appears the DOS conducted limited outreach about the opportunity to specific Southeast Pa. counties with significant advantages in Democratic voter registration.
"Chester County heard about the grant opportunity last August, from several different sources including the PA Department of State and other private entities," said county spokeswoman Rebecca Brain.
Both Chester and Montgomery Counties, which received $2.5 and $1.1 million from CTCL, respectively, were awarded their grants on Sept. 1.
"We became aware of the CTCL grant opportunity from a number of sources, including from other counties that had already been approved for funding, election advocates, and also the Department of State," said Kelly Cofrancisco, communications director for Montgomery County.
The Philadelphia Commissioners office submitted their grant request Aug. 7 and was awarded $10 million on Aug. 21. A request for comment to all three current commissioners was not returned.
As Broad + Liberty previously reported, the total funding awarded by CTCL was disproportionately skewed towards the majority Democratic counties of Philadelphia, Delaware, Montgomery and Chester.
Some Republican lawmakers have argued that CTCL's grants may have boosted Democratic turnout in the suburbs, but have usually stopped short of saying that was the explicit intent.
"I don't think anybody would disagree that Philly would get substantially more money than some of these counties," said Rep. Seth Grove (R-York County) last month about the grant disparities. "But proportionally, it appears to look as though some red counties were patted on the head and said, 'Oh, here you go' to say that money went to red and blue counties combined."
Republican lawmakers have proposed a bill that would still allow for outside parties to make financial grants to Pennsylvania's elections, but the monies would first have to go to the DOS, which would then parcel out the money to smaller governments.
The CTCL grants did not always cause an increase in the Democratic vote, however.
For example, Philadelphia shocked many election observers when its margin of victory for the Democratic presidential candidate shrank from 67 percent in 2016 to 63 percent in 2020. Similarly, in nearby Bucks county, which did not receive a CTCL grant, Biden won that county by four percent in 2020 compared to Hillary Clinton's one-percent margin of victory in 2016.
But for some lawmakers, trying to draw a correlation between the grants and the outcome is not the sole issue.
"I just felt, ethically, it was disturbing to me that the private grant distribution was happening, and it was not happening evenly between counties," said Rep. Eric Nelson (R., Westmoreland) to Spotlight PA.