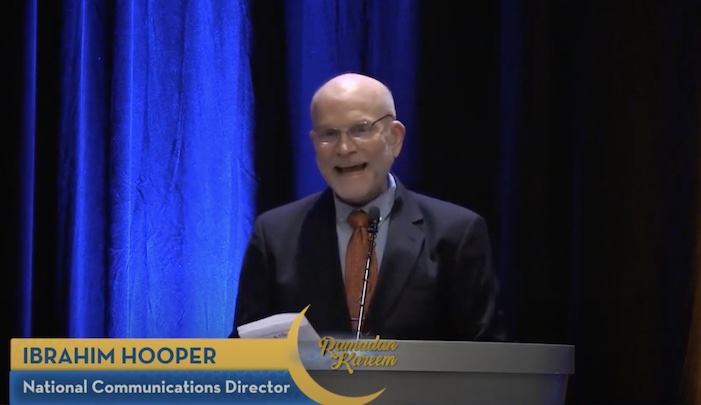 Here is a study in contrasts from South Carolina regarding the Hamas-linked Council on American-Islamic Relations (CAIR). There were two separate broadcasts about CAIR and racist fliers in South Carolina.
CAIR is condemning racist fliers left on people's driveways. There is quite a bit of this racist flier activity around the country. In fact, it is one of the ways CAIR representatives get on TV as often as they do. Yet the fliers have nothing to do with Muslims or Islam.
Although the TV station cautions residents against going to the website contained in the flier, your intrepid reporter managed to contact a leader of one of the groups by phone to see if they were talking about Muslims. They are not. They are exclusively talking about Jews and blacks.
Still, when these fliers showed up in the Palmetto State, CAIR reps took the opportunity to get on TV with their empty condemnations.
In the Pee Dee region of the state, WPDE saved its mention of CAIR for the end of the broadcast. It's a common pattern: stations pivot from some legitimate authority figure such as the police to a CAIR spokesman. Newscasters place CAIR on an equal footing with the police, a mayor, or even the President of the United States.
In the Lowcountry, WCIV led off with the Council on American-Islamic Relations.
The Council on American Islamic Relations the nation's largest Muslim civil rights, and advocacy organization condemned the distribution of anti-Semitic fliers in Georgetown County.
Again, these fliers have nothing to do with Islam, Muslims, or CAIR. You know, if you had a product or service you wanted to promote on TV, you would kill to have the kind of access CAIR is seemingly enjoying for free. And "enjoying" is the right word. Here is CAIR spokesman Ibrahim Hooper (pictured above) in ecstasy over the media attention CAIR receives: "78 billion potential viewers!"
This is not the first time WCIV has worked with CAIR. CAIR was on several South Carolina TV stations importuning the police to deploy extra resources to catch whoever spray-painted "utterly blessed" on the side of an Islamic center. This broadcast was noteworthy because, in at least one case, local Muslims didn't think it was a big deal. That made this another example of the fact CAIR does not represent the "Muslim community".
WCIV also reported on Greenville County Council Member Lynn Ballard's apology for wearing a Confederate flag t-shirt, and gave the distinct impression that Ballard was apologizing to CAIR. Something he did not do.
WCIV has the good taste not to promote the website found in the racist fliers. But the station will promote CAIR, whose reps have referred to white people as depraved, savage, subhuman devils who should be choked.
The same thing that motivates CAIR to condemn racist fliers around the country causes them to get involved in a rumor about a girls' high school softball game in Iowa. CAIR clearly does not like white people, and polices them with an eagle eye, while steadfastly ignoring the activities of violent Muslims.
Both WCIV and WPDE have mottos about "working for you." In this instance, however, they are working for a tiny segment of society that couldn't raise more than 1,000 people in support of its pet cause, Palestine.
Local newscasters around the country are going to continue to promote CAIR on TV until you tell them to stop.