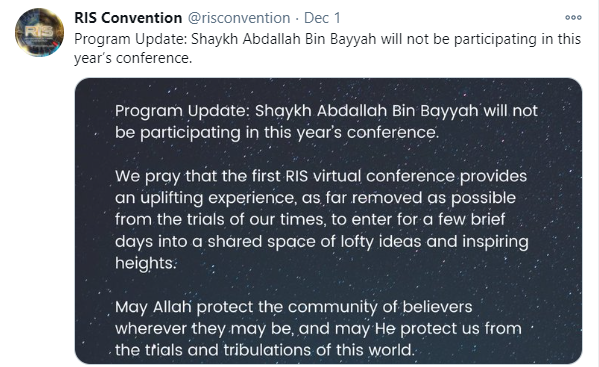 The United Arab Emirates Fatwa Council head, Sheikh Abdallah Bin Bayyah, a prominent Islamic scholar and politician, has either withdrawn or was disinvited from speaking at one of the largest Islamic conventions in North America: Reviving the Islamic Spirit (RIS). Bin Bayyah has been a preeminent guest speaker at RIS in the past, but for the upcoming convention, which is scheduled for December 26-27 in Toronto, Canada, he is no longer in the lineup. This has raised speculation that his withdrawal was connected to the reputation of some of the speakers and sponsors featured at the RIS convention who are linked to the Muslim Brotherhood.
A couple of noteworthy points: the UAE has not only normalized its relations with Israel (a move that was labeled a "despicable betrayal" by the Palestinian Authority), but is now welcoming in thousands of Israeli tourists. And on November 25, Middle East Eye reported that the UAE Fatwa Council had denounced the Muslim Brotherhood as a terrorist organization, backing a ruling by the Council of Senior Scholars of Saudi Arabia. Hamas is a Muslim Brotherhood offshoot. In light of that, one can see how and why Bin Bayyah's presence would be awkward at the RIS convention.
The New Arab contacted the RIS organizers "to clarify whether Bin Bayyah had withdrawn from the convention or had been disinvited," but received no response. Bin Bayyah's withdrawal was announced by RIS on Twitter: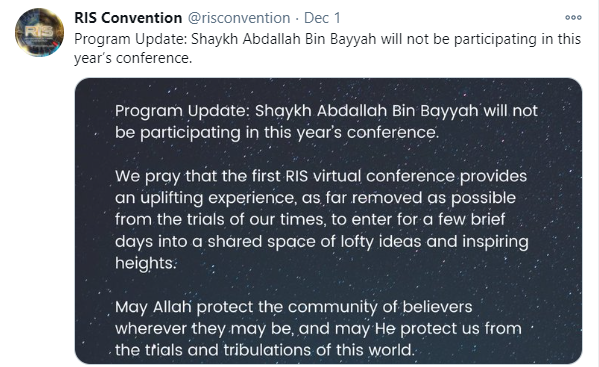 Among the Convention sponsors are recognizable names with known links to the Muslim Brotherhood. The Muslim Students Association (MSA) is one of them. According to Discover the Networks (DTN): "The Muslim Students Association of the United States and Canada, or MSA (also known as MSA National), was established mainly by members of the Muslim Brotherhood (MB) in January 1963."
DTN describes the Muslim Students Association as follows:
Was the first Muslim Brotherhood affiliate to gain a foothold in the United States
A key lobbying organization for the Wahhabi sect of Islam
The flagship of some 600 campus MSA chapters nationwide, of which approximately 150 are affiliated with MSA National (while the rest are independent)
But the top sponsor of the event is Islamic Relief Canada (IRFAN-Canada):
This so-called charitable organization was designated a terrorist organization in 2014 by the previous Conservative government of Prime Minister Stephen Harper. The designation followed a raid of the IRFAN-Canada offices by Canada's Royal Canadian Mounted Police (RCMP).
Although Hamas has been outlawed in Canada since 2002, Revenue Canada officials subsequently found that "between 2005 and 2009, IRFAN-Canada provided over $14.6-million to operating partners that were run by officials of Hamas, openly supported and provided funding to Hamas, or have been listed by various jurisdictions because of their support for Hamas or other terrorist entities."
IRFAN-Canada lost its charity status in 2011, when "Canada Revenue Agency auditors called it an 'integral part' of an international fundraising effort that supported Hamas." Three years later, Canada declared it a "terrorist organization."
Canada's Prime Minister Justin Trudeau faced public denunciation for participating in the 2012 Reviving the Islamic Spirit convention, despite knowledge of that fact that its sponsor IRFAN-Canada had been stripped of its charitable status.
Since Trudeau's election as Prime Minister in 2015, Canada has seen a steady rise in Islamic supremacism entryism, not the least of which includes the implementation of "anti-Islamophobia" Motion M-103. This motion deemed Canada to be a country with a "climate of fear" toward Muslims and in need of government help for this "fear" to be "quelled." The Liberal Trudeau government followed up with a taxpayer-funded $23 million document signed by then-Heritage Minister Melanie Joly in June 2018. A Pakistani-born Member of Parliament, Iqra Khalid, who first tabled Motion M-103, held a press conference shortly after, in which she openly admitted that the National Council of Canadian Muslims (formerly CAIR-CAN) and IRFAN-Canada will be receiving funds from the $23 million plan, which among other goals stated intentions to "monitor citizens for compliance" and train law enforcement to investigate online and offline "hate speech." This was despite IRFAN-Canada's designation as a terrorist organization.
Another prominent imam, Khalid Latif, also withdrew from the RIS conference, but his withdrawal was for a very different reason than that of Sheikh Abdallah Bin Bayyah. Latif, who is a chaplain for both New York University and the NYPD, as well as Executive Director of the Islamic Center at NYU, backed away before Bin Bayyah withdrew, precisely because Bin Bayyah was on the speaker's list. Here's why Latif didn't approve of Bin Bayyah, as he explained on his Facebook page:
I will no longer be speaking at this year's Reviving the Islamic Spirit conference that takes place annually in Toronto, Canada due to the inclusion of Shaykh Bin Bayyah as a speaker. Over the last few years, there have been a lot of dangerous positions from UAE-based councils that have named individual Muslim leaders and organizations like ISNA, Islamic Relief, and CAIR as being linked to terrorism. The most recent fatwa that Shaykh Bin Bayyah's UAE Council issued deeming the Muslim Brotherhood a terrorist organization simply adds to an already problematic geopolitical agenda. That agenda seemingly has no qualms in assisting in the development of iniquitous policy in countries throughout the world that will disrupt the lives of so many people and justify the oppression of that many more all in the pursuit of power retention.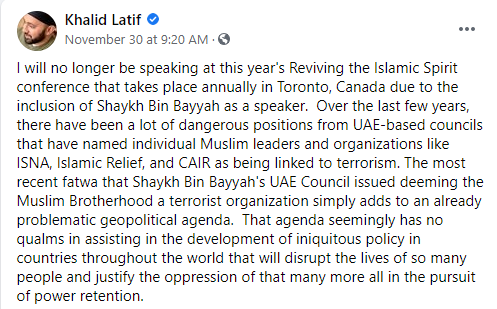 Unsurprisingly, the significant dispute involving the RIS convention was not covered by the mainstream media, which focuses on "Islamophobia" instead; a subterfuge propagated by mainstream Islamic supremacist groups like CAIR, which is on the list of "unindicted co-conspirators" in the largest terror-finance trial in the history of the U.S., "against the Holy Land Foundation and its former officials." Latif has been keynote speaker at a CAIR banquet.
CAIR announced Latif's withdrawal from the RIS conference on its Facebook page:
Robert Spencer has also discussed Latif, in an article entitled Peaceful Muslim demands that non-Muslims accommodate violent Muslims.
The anti-MB position of the UAE, Bin Bayyah and the UAE Fatwa Council is to be applauded. The gap is widening between those Muslim groups and individuals who are loyal to Muslim Brotherhood interests as Brotherhood-linked organizations operate in the West (under a fake banner of peace), and those Muslims who respect the principles of free societies and do not hate the state of Israel. This gap is causing mega-shifts on the global playing field and casting a spotlight on countries which may be supportive of Muslim Brotherhood operatives and entities, such as Canada under Trudeau and the US during the Obama Administration. The upcoming RIS convention and the ideological split between Sheikh Abdallah Bin Bayyah and Khalid Latif underscores the fact that the ideological turf war in Islam is not confined Muslim countries. It has long been raging in Western states, but few have paid attention.
Senator Ted Cruz (R-Texas) has reintroduced the Muslim Brotherhood Terrorist Designation Act, and explained that he believes it will "advance America's fight against radical Islamic terrorism." For doing so, he has been called radically anti-Islam, among other names. Ditto for anyone who opposes Muslim Brotherhood-linked groups. They are methodically and ruthlessly marginalized as "Islamophobes," "bigots" and "racists."
What will the Leftist-Islamic supremacist alliance now say? That Sheikh Bin Bayyah is also an "Islamophobe," a "bigot" and "anti-Islam"? We know the answer. The rift at the RIS convention is significant, however much it is being downplayed.
Supressing the truth and truth-tellers, the victimhood ploy is a calculated means to advance Muslim Brotherhood goals. The group's ambitions are stated in the Muslim Brotherhood Explanatory Memorandum, which reveals its strategic goal for North America:
"The process of settlement is a 'Civilization-Jihadist Process' with all the word means. The Ikhwan [Muslim Brotherhood] must understand that their work in America is a kind of grand jihad in eliminating and destroying the Western civilization from within and "sabotaging" its miserable house by their hands and the hands of the believers so that it is eliminated and God's religion is made victorious over all other religions."
It is inspiring that influence from the UAE has shed some light on the goings-on in Canada. Let's hope this pattern continues elsewhere.
Christine Douglass-Williams is an international award-winning broadcast journalist, past Canadian Federal Government appointee, author of The Challenge of Modernizing Islam and Fired by the Canadian Government for Criticizing Islam. She is a regular writer for Jihad Watch and an Associate Editor at FrontPage Magazine.