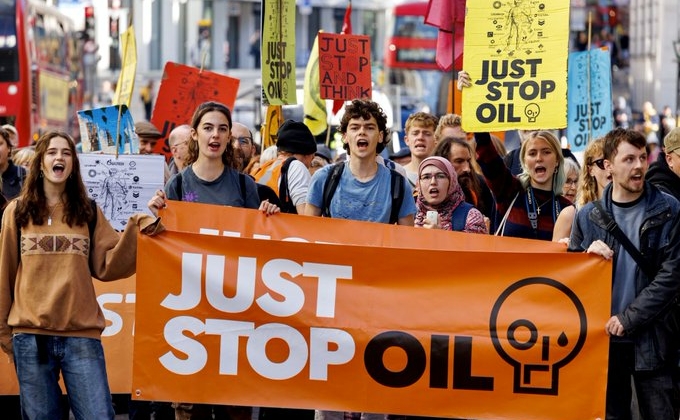 [Order David Horowitz's and John Perazzo's new booklet: "Internal Radical Service: Abuse Of Taxpayer Dollars To Advance Leftwing Causes Illegally And Unconstitutionally": CLICK HERE.] 
When Just Stop Oil, an ecoterrorist group, splashed tomato soup on Van Gogh's Sunflowers painting in London's National Gallery, it began fundraising off the attack with the threatening message, "Keep giving us new oil and gas and you will be getting soup".
Front Page Magazine quickly followed up with pointed inquiries to the leftist crowdfunding site that the ecoterrorists were using and its partners, including Santander Bank, and got results.
Just Stop Oil soon complained that, "Our Crowdfunder has been TAKEN DOWN after peacefully resisting this Government's genocidal plans." The leftists announced they had switched to Stripe which processes payments through Visa/MasterCard, Discover, and American Express.
Front Page has also reached out to Stripe and to its CEO about funding illegal activity.
But even more revealingly, Just Stop Oil told Americans, "You can make a tax deductible donation to Just Stop Oil's recruitment, training and educational programs through the Climate Emergency Fund." Backed by, among others, a Getty Oil heiress and leftist director Adam McKay, the Fund operates as a 501(c)(3) despite its support for ecoterrorism.
That's a problem because 501(c)(3) nonprofits are not allowed to fund illegal activity.
As discussed in David Horowitz's and John Perazzo's important new booklet: "Internal Radical Service", the IRS has allowed leftist nonprofits to abuse the tax code by financing crimes.
The tax code specifically states that "not only is the actual conduct of illegal activities inconsistent with exemption, but the planning and sponsoring of such activities are also incompatible with charity and social welfare."
The Climate Emergency Fund urges donors to "support the October Uprising!" which it describes as "sustained civil resistance". Under the accomplishments of what the nonprofit describes as "our grantees", there's other members of the Just Stop Oil ecoterrorist group gluing their hands to a Picasso painting in Australia. This is a blatant violation of IRS regulations.
The Fund's own 990 IRS filings falsely claim that it exists to fund and support individual activists and organizations "working to educate the public on the threat of climate change" but "supports only nonviolent, legal activities".
This is clearly and indisputably false.
Vandalizing paintings is not "legal". Smashing fuel pumps, which Just Stop Oil also does, is also criminal. So is breaking windows and other forms of vandalism. The Fund hails Just Stop Oil as a "model for the A22 Network". It points to a headline which reads that "almost 250 people have been arrested" for various actions. The Fund's site admits that what it told the IRS is a lie.
The Fund is abusing its nonprofit status to illegally fund criminal activity around the world.
Climate Emergency Fund's own promotion page for the A22 Network includes a picture of a burning object in a public place, another picture of a museum attack by its Italian grantee, Ultima Generazione, and promises that it will be "scaling up disruptive protest."
Just Stop Oil, which appears to overlap with Extinction Rebellion, has already gone after Da Vinci's Last Supper and another Van Gogh. Extinction Rebellion, a coalition partner of the Fund's A22 Network, smashed windows and vandalized buildings and memorials, including the Victoria Memorial outside Buckingham Palace. Declare Emergency activists in the U.S. shut down highway traffic and were charged with obstruction. No Coal, No Gas in New Hampshire activists were found guilty of criminal trespass. One local described its action in stopping a coal train as "urban terrorism" and "dangerous to the disruptors, to the people who live near the railroad tracks in their homes and to the personnel running and operating that train."
Extinction Rebellion DC, hailed by the Climate Emergency Funds grants page as being "responsible for some of the most disruptive climate protests in US history" which it "plans to keep escalating", has repeatedly blocked traffic in D.C., potentially putting lives at risk, and dumped manure outside the White House on Earth Day.
The group boasts that they shut down Congress with an insurrection by sending "17 brave rebels into the very bowels of the US Capitol Complex. Once inside, they superglued themselves onto the tunnels that connect the House Office Buildings to the US Capitol".
"There was a vote scheduled for the house floor in the US Capitol at 6:00pm; our blockades went up at 5:45pm. Almost every member of Congress uses these tunnels to travel between their offices and the Capitol. Our superglued rebels delayed the first vote on the house floor by more than half an hour," Extinction Rebellion D.C. boasts.
Not only has the ecoterrorist Left engaged in its own insurrection, it's funded as a nonprofit.
Since then, Extinction Rebellion D.C. has occupied Pelosi's office without anyong going to jail.
That will continue unless Congress puts pressure on the IRS and state attorney generals begin investigating the financing of illegal ecoterrorist activities under the guise of nonprofit groups.
"Internal Radical Service" by David Horowitz and John Perazzo documents many of the radical leftist terror campaigns and abuses that the IRS has allowed to proliferate even as it cracks down on conservatives. Domestic terrorism is not a charity. If shutting down the operations of Congress is an insurrection, then how can its funders possibly operate as a nonprofit?
Until members of Congress begin asking those hard questions, the double standard will go on.
Ecoterrorists, like other vandals and criminals, belong in prison. The organizations that fund their crimes should face criminal charges. Instead, the IRS has allowed them to retain their nonprofit status so that taxpayers are subsidizing the Left's war against America.