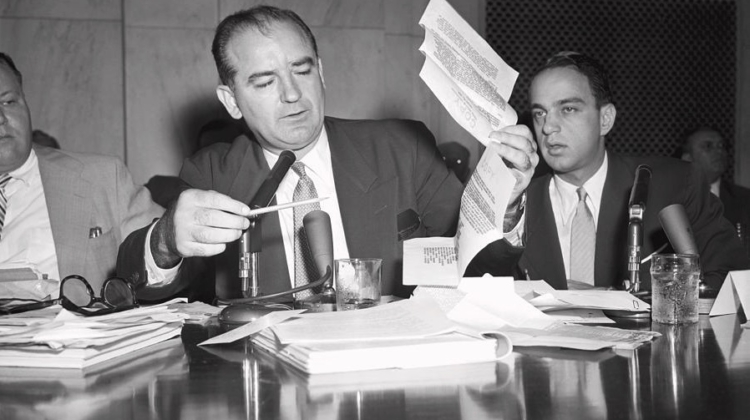 Two years of Biden Junta damage has put congressional Republicans in an investigative mood. As they seek to open the books, the eager sleuths might take some lessons from the Republicans elected back in 1946. After four terms of Franklin Delano Roosevelt, they had plenty to examine.
"The curiosity is not that there were undoubtedly many Reds who made government their vocation," wrote actor Robert Vaughn in Only Victims," but that the entire Communist party was not on the federal payroll." For former Communist Eugene Lyons, this was not much of an exaggeration. "Never before," Lyons wrote, "had all areas of American society been so deeply penetrated by a foreign nation and a foreign ideology."
New York Rep. Samuel Dickstein, a liberal Democrat, proposed a committee on un-American activities to investigate every subversive group in the country. In 1938 the committee passed by a vote of 191-41 and began investigating the German American Bund. During the Hitler-Stalin Pact the Committee produced a 444-page report on Nazi activities in the United States, cited by President Roosevelt when he shut down the German consulates. After World War II, the committee focused on Communism.
An investigation of Comintern (Communist International) agent Gerhart Eisler led to Hollywood, where Gerhart's brother Hanns ("The Comintern March,") worked as a composer. Actors, directors and back-lot workers came forth with first-hand accounts of Communist Party influence.
During the 1930s and 1940s, as noted by Budd Schulberg (What Makes Sammy Run?), the Communist Party was the only game in town. The committee decided to look into it, but foolishly focused on movie content. Trouble was, under the studio system, Party writers had not been able to plant much Communist content in films.
In November, 1947, the committee, chaired by New Jersey Republican Parnell Thomas, held hearings in Washington.  "Friendly witnesses" included New Deal Democrat Ronald Reagan, who fought the Party in the talent guilds. In his brief testimony, Reagan had little opportunity to expose that struggle, which had erupted into open warfare at every major studio.
New Deal Democrat Roy Brewer, Reagan's counterpart in the back-lot unions, knew more than anyone about Communist players, tactics and intrigues. The committee foolishly delayed and disallowed Brewer's testimony.
The 45 original "unfriendly witnesses" were pared down to 19. As Billy Wilder quipped, only a few were talented, the rest were just unfriendly. The 19 were reduced to the famous "Hollywood Ten," led by Stalinist screenwriters John Howard Lawson (Blockade) and Dalton Trumbo (Kitty Foyle).
The unfriendlies' bellicose performance alienated their Hollywood supporters and drew contempt of Congress charges. The Supreme Court, still jostling with FDR appointees, twice refused to consider the case of the Ten.
Imprisoned Stalinists Ring Lardner Jr. and Lester Cole were soon joined by Parnell Thomas his own self. The grandstanding committee chairman had been convicted of embezzling government funds.
Liberal Democrat Samuel Dickstein, prime mover of the House Committee on Un-American Activities, turned out to be a Soviet agent, spying for money under the codename "crook." This was known to American intelligence in 1947 but kept secret for decades. Current Republicans can find lessons in these events.
Partly labels can be deceiving. Investigators should be free from deep-state collaboration, financial ties to foreign regimes, and clean as possible of the corruption that now prevails in government. Remember, obscurantist media stand deployed against the investigations.
Congressional investigations not a forum for grandstanding and photo-ops. Congressional investigations are about revealing the truth for the embattled American people. Targets should be selected on the basis of importance and vulnerability.
High on the list should be white coat supremacist Dr. Anthony Fauci, who claims he represents science. James Lyons-Weller cites seven facts Fauci knew but hid from the public. High-profile Democrat Robert F. Kennedy Jr. author of The Real Anthony Fauci, can reveal many more.
Investigators should call in UC Berkeley molecular biologist and cancer researcher Peter Duesberg, author of Inventing the AIDS Virus. Professor Duesberg can explain Fauci's fondness for toxic drugs such as AZT, and his prowess in cancel culture. Had Fauci not wrecked Duesberg's career, a cure for cancer might be close at hand.
Fauci's wife Christine Grady, chief of bioethics for the National Institutes of Health, is another candidate for public testimony. Ask Grady if she ever had ethical objections to anything her husband did, including forced drug trials on foster children in New York. Congressional investigators should also call in former CDC mouthpiece Dr. Nancy Messonnier.
Her press briefings in early 2020 faithfully echoed China's talking points, which Americans might find strange. Dr. Messonnier came up as an officer in the CDC's Epidemic Intelligence Service (EIS), tasked to prevent strange viruses from arriving on American soil. With the Covid virus they obviously failed, and investigators need to know the reason.
Republicans plan to probe the weaponizing of government, also a target-rich environment. The IRS and DHS all deserve close attention, and Joe Biden should get his fair share. He stashes away classified documents and his Senate papers at the University of Delaware, once billed as a boon to research, remain off-limits to the public. The people need to see what's in there, and other items Biden sought to keep hidden.
Back in 2008, State Department contractors attempted to look at Sen. Barack Obama's passport file. Sen. Joseph Biden, then chairman of the Senate Foreign Relations Committee, was "deeply troubled" about the search and wondered why they sought the information. Maybe they wondered what the Illinois Senator was hiding. Did he travel as Barry Soetoro, surname of the Indonesian army officer his mother Ann Dunham married in 1965? Or was it some other identity?
Biden wanted the State Department contractors to be fired, and that doubtless played a role in his selection as Barry's running mate. Now congressional Republicans and the Department of Justice want to know why Joe Biden has been hiding all those classified documents, even in the garage where he keeps his vintage Corvette.
As in 1947, it's all about memory against forgetting. Investigators should be working three shifts, posting the results in real time and downloadable form. As inspector Claude Lebel (Michael Lonsdale) told Madame de Montpelier in The Day of the Jackal, be in no doubt as to the seriousness of your position. And have no doubt the people are watching.