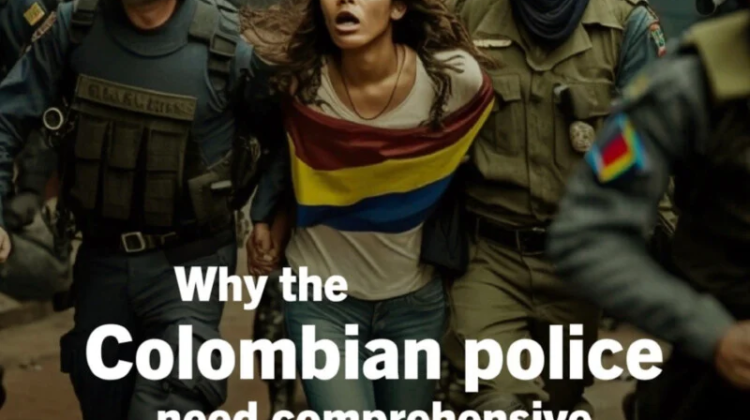 Remember when the media worried about "deepfakes"? We're well past that, at least the use of the term, as AI image generators like Midjourney can produce fairly sophisticated images in a variety of styles. And the media's concern trolling over "fake news" was just about making sure that social media giants censored conservatives.
Now it's time to embrace real fake news.
"Police officials raped and insulted women and LGBTI people taking part in protests," text superimposed over an AI-generated woman standing in front of AI-generated flames said. Another image shows AI-generated cops pulling an AI-generated woman away from a protest. The woman is draped in a flag that shows Colombia's red, gold, and blue stripes out of order.

The images contain hallmarks of AI generation. Besides the Colombian flag's colors being in an incorrect order, in the same image there are plenty of unrecognizably warped human faces and features like hair, officers' names are gibberish, and hands in the image are distorted. In another image shared by Amnesty Norway, depicting an AI-generated Colombian police officer, the officer's helmet is a nonsensical and mangled design in addition to strange anatomical features.
Every media story like this one is careful to claim that the events really happened. The obvious answer is that you don't need AI-generated photos to depict things that really happened. Especially pictures this generic.
"As part of its campaign for police reform in the Colombia, Amnesty International decided to use artificial intelligence images as a means of illustrating the grave human rights violations committed during the 2021 National Strike without endangering anyone who was present," an Amnesty International spokesperson told Motherboard in a statement. "Many people who participated in the National Strike covered their faces because they were afraid of being subjected to repression and stigmatization by state security forces. Those who did show their faces are still at risk and some are being criminalized by the Colombian authorities."
This is a dumb excuse. It's easy enough to blur or entirely eliminate recognizable faces from photos. And Amnesty only needed a handful of pictures anyway. Surely it could come up with a picture of an actual protester being led away? Apparently not.
From 'Pallywood' in Israel to other conflicts, media stringers have a long history of staged and completely out-of-context photos. AI-generated images just take this to the next level.
A supposed picture of Gaza Muslims carrying the bodies of dead children after their attacks on Israel turned out to be a photoshop. Despite that it won an international photography competition. When you don't care what the truth is, there are gradations of making stuff up. And AI decided to go full-AI by making the photos up entirely.
But is that so different than photogs in Pallywood putting staged teddy bears and children's toys at the scene of an Israeli strike taking out a Hamas terrorist?
Amnesty International was founded based on a hoax.
Amnesty International was founded by the British lawyer and activist Peter Benenson. In March 1961 Benenson, moved by a newspaper report of two Portuguese students incarcerated for criticizing the regime of their nation's dictator Antonio Salazar
It never happened.
It's only fitting that AI honors the legacy of its founding. One hoax deserves another.